Charter bus rental in Poland for tours and transfers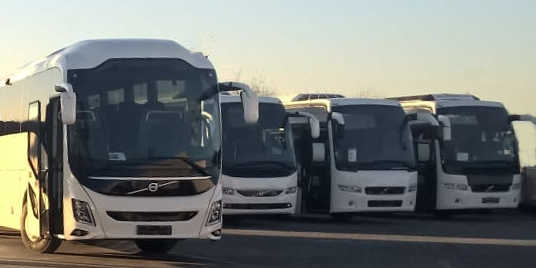 Poznan Transfers is a bus rental platform operated by the european tour operator City Tours. Together with carefully selected charter bus companies from Poznan and surrounding Poland, City Tours Europe can provide you with reliable and comfortable coaches and minivans for any kind of bus transfer or sightseeing tour in, to or from Poznan. Any charter bus service booked with Poznan Transfers shall be procedured by the central bus reservation office of City Tours Europe in Vienna (Austria). The booked sightseeing tours and bus transfers themselves shall be executed by local bus rental companies with experienced local drivers. Should you have questions about our bus rental service, please feel free to contact us anytime at !
With great pleasure will our comfortable buses carry you from any place within Poznan to a destination of your choice. For instance, our coaches and minivans are ready to take you from your hotel to Poznan city centre, to the stadium or to any restaurant or event location in Poznan.
For travellers arriving by airplane at Poznan airport, we offer airport pickup service by bus or minibus. And we are also ready to carry those who leave Poznan by plane to the Poznan international airport.
Travelling by bus is a reliable and very comfortable alternative to shaky flights and rattling trains. Should you wish to travel from Poznan to another place in Poland by coach or minivan, or should you be looking for a bus transfer from any place in Poland to Poznan, we will gladly provide you with the most suitable motorcoach for your transfer.
Not only within Poland can you rely upon our charter coach services: our experienced drivers and our comfortable buses are also at your disposal for transfers between Poznan and any place of your choice in Europe.
Discover the sights and culture of Poznan during a guided city tour by coach or minivan! Contact us to rent a suitable bus and to book your personal Poznan tour guide for a tailor-made sightseeing tour accustomed to your personal wishes and interests.
There are many beautiful and interesting places in the surroundings of Poznan, as well as in other regions of Poland. With our company, you can rent modern and comfortable coaches of different sizes for any kind of sightseeing tour to Poland. Furthermore, we can also help you arrange group menus in characteristic Polish restaurants, to book hotels or other accomodation in Poland, to make ticket reservations for shows and events or to reserve sightseeing tours, museum tickets and many other tourism related services.
Of course, you can also rent our buses and minivans for your sightseeing tours and travels to any european country or countries. In the context of bus travel, we do offer stand-alone charter bus service as well as assistance with the organisation, preparation and execution of your entire journey. Thanks to our close-knit co-operation with leading tour operators, bus companies and tour guide organisations from many european countries, we can help you make your bus tour through Europe a unique, satisfying and memorable experience.
---